The Charm of Hotel Sekumiya
Wakasa Road's Only Natural Hot Spring
From the radium hot springs/public baths "Umisachinoyu" and "Yamasachinoyu" that include minerals containing radium, to the salt springs of the natural Hanamasu hot springs, open air baths "Hoshizoranoyu" and "Gekkonoyu", and the barrier-free reserved private room open air baths "Wanoyu" and "Kinoyu", we have a wide-range of facilities prepared for you.
Natural Hanamasu Hot Springs
The Hanamasu hot spring moves from the neighboring Takahama-cho.
This salt spring has a temperature of 28.8 degrees, and boasts an abundant output at 250 L/minute, as the only natural hot spring on Wakasa Road.

In addition to relief of nerve, muscle, and joint pain, the salt of the spring warms the body and helps with sensitivity to cold.
Please, warm yourself leisurely in the hot spring.
Reserved Private Room Open Air Baths
Our reserved private room open air baths "Wanoyu" and "Kinoyu" are barrier-free.
Radium Spring Public Baths "Umisachinoyu" and "Yamasachinoyu"
Minerals, such as those containing radium, are taken in as is into our equipment. The abundant mineral content is mixed into the water, transforming it into weak alkali spring water.
The skin is made smooth and the body is warmed to its core, keeping you warm even after your bath, just like a natural hot spring.
Various Room Types
Japanese-style rooms, Western-style triple rooms, Western-style twin room, Western-style single/double rooms, special room
62 rooms total
We have a variety of different rooms available.
All rooms are capable of high-speed Internet connection. Washlets are installed in each room.
There are a total of 18 Japanese-style rooms, 12 triple rooms, 17 twin rooms, as well as a total of 14 single and double rooms and 1 special room. We will respond to everyone's diverse requests.
Fresh Blessings of the Ocean
The sea of Wakasa is where cold and warm streams meet. You can enjoy the flavors of the four seasons throughout the year.
Please enjoy to your heart's content the taste of Wakasa Obama, brought about by the fresh blessings of the sea.
Satisfying Building Facilities
Make use of our impressive staff and diverse banquet facilities for a wide variety of events, such as wedding reception banquets, parties, meetings, and memorial services.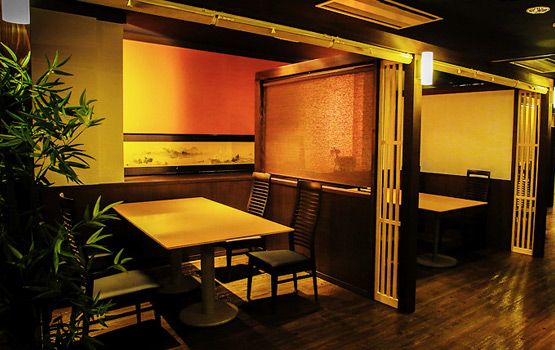 A wide variety of uses
Including a wedding reception venue, banquet hall, meeting room, semi-private restaurant, VIP room, lobby lounge, and Wakasa Obama product museum, we provide highly local services and hospitality for customers from near and far.